When we found out that we would be adopting a German Shorthaired Pointer I decided to do a little research on the breed.  I was impressed with the list of honorable traits like, hard worker, ready learner, astute hunter, strong swimmer with webbed toes, family oriented and respectful of authority.
On the other hand, one of the big negatives was the fact that this is one of the most energetic breeds of beasties one can own.  Supposedly, they are ALWAYS ready to romp, swim, run, sniff, track, play, chase, work, retrieve... (insert any other pulse pumping activity, you get the idea.)
Needless to say, as two working adults and a kid who is burdened with the tyranny of two hours worth of homework EVERY stinkin' night of her school year, I was a bit concerned that little miss Shady Lady might not get enough excercise, especially since we don't have a fenced in yard.
According to the experts, the consequence of this lack of physical stimuli is a very undesirable end result... total house destruction.
Uh oh.
So Big Dave pledged to walk Shady every day... at least a mile.  Then when our neighbors adopted the oh so lucious and fretfully frisky five month old pup 'Sugar Magnolia,' we began having playful romp dates in their fenced backyard. 
Hey, this might not be so bad.
However, Shady being approximately one and a half years old, doesn't always want to romp and play with her bouncy little friend. Hmmm... we were stumped as to how to provide her with enough excercise while saving our own muscles and metabolisms from anything resembling fitness.
And then we found it.
The magic wand... the silver bullet... the golden ticket of dog joy and frisk...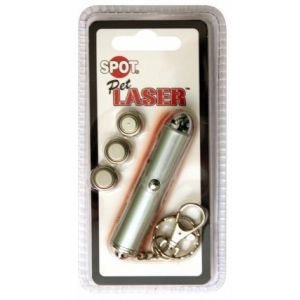 Behold the miracle of the laser pointer. No relation to the German Shorthaired Pointer, but definitely a new (and hopefully) lifelong love.
Yes, our graceful, reticent Shady Lady... she who boasts a regal figure and reserved demeanor turns into a stub-tail waggin', slobber drooling maniac with ears perked as high as a teeny bopper's ponytails when Big Dave whips out this little red light and runs it across the yard.
She'll cross fifty yards of turf in the fastest gallop I've ever seen in a dog, nose to the ground, eyes on the little red dot zipping along in front of her until her tongue hangs out of her mouth like a unrolled fruit snack.  (It's pretty impressive.)
And all the while Big Dave and I are sitting on the back steps, cold beer in hand.
If you have a dog and have yet to try one of these little miracles, I suggest you give it a try.  Of course Ruby the super pom won't have anything to do with it... after all, she KNOWS she's a human and won't fall for such tricks.  Neither will Sugar the neighbor pup, but she has yet to mature into her true hunter instincts. 
But maybe, just maybe your dog will fall in love with it too.  And you can sit lazily on the porch while running said canine up and down the yard like a crack starved idiot.
Seriously... if this isn't proof of its potency, I don't know what is...
 
That's a pup in need of some R and R.  (And snuggling on Big Dave's 'Pink Blanky' which has been in our family since before I ever met him.... long story, but let me just say that it's a damn comfy blanky... and you probably don't actually want to let it touch you if you ever come to my house... just sayin.)
 
And yes, a tired dog REALLY is a good dog.  That is one thing of which I am 100% sure.
Good dog Shady.
;)